Staff
When you became my client, you placed your trust in me to help make your vision a reality. I honor that trust with the help of my dedicated support staff. Together, we make a strong commitment to client service. If at any time you have a question, concern or need, please let us know.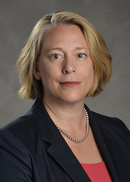 Katherine DeTitta, MBA
Associate Financial Representative
Office 301-217-6448

Katie joined Northwestern Mutual in 2015 as Marketing Director and in 2016 became an Associate Financial Representative.  Prior to joining Northwestern Mutual, she spent more than 15 years in marketing for global telecommunications and IT companies such as Orange Business Services, Equant, INTELSAT and Alcatel.
Coupled with a passion for personal finance and planning, Katie holds an M.B.A. in Marketing and M.S. in International Business from the University of Maryland and a B.A. in French from Rhodes College.  She spends her spare time with her husband and two sons and is an avid gardener. She's fluent in French, and conversational in Spanish and German.